I built an OBD2 connector based off the excellent info from this forum:
https://gearheads.in/showthread.php?24542-Indian-KTM-Dukes-Building-an-OBD2-Cable-for-Datalogging-the-DUKE-200-390-amp-RC-200-390-CODE-6-Tuning
The connector is a Sumitomo HM 090 6 Pin Male:
Motorcycle .090 - Connector and Terminals
Cable is hacked up cheap OBD2 extensions cable from Amazon. As well as the Bluetooth OBD2 dongle.
Currently using "Torque" App on Android. Likely will implement my own App to do logging.
One big issue is that it is not displaying RPM. Will delve into that further. Photo shows displaying O2.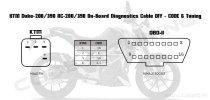 Last edited: